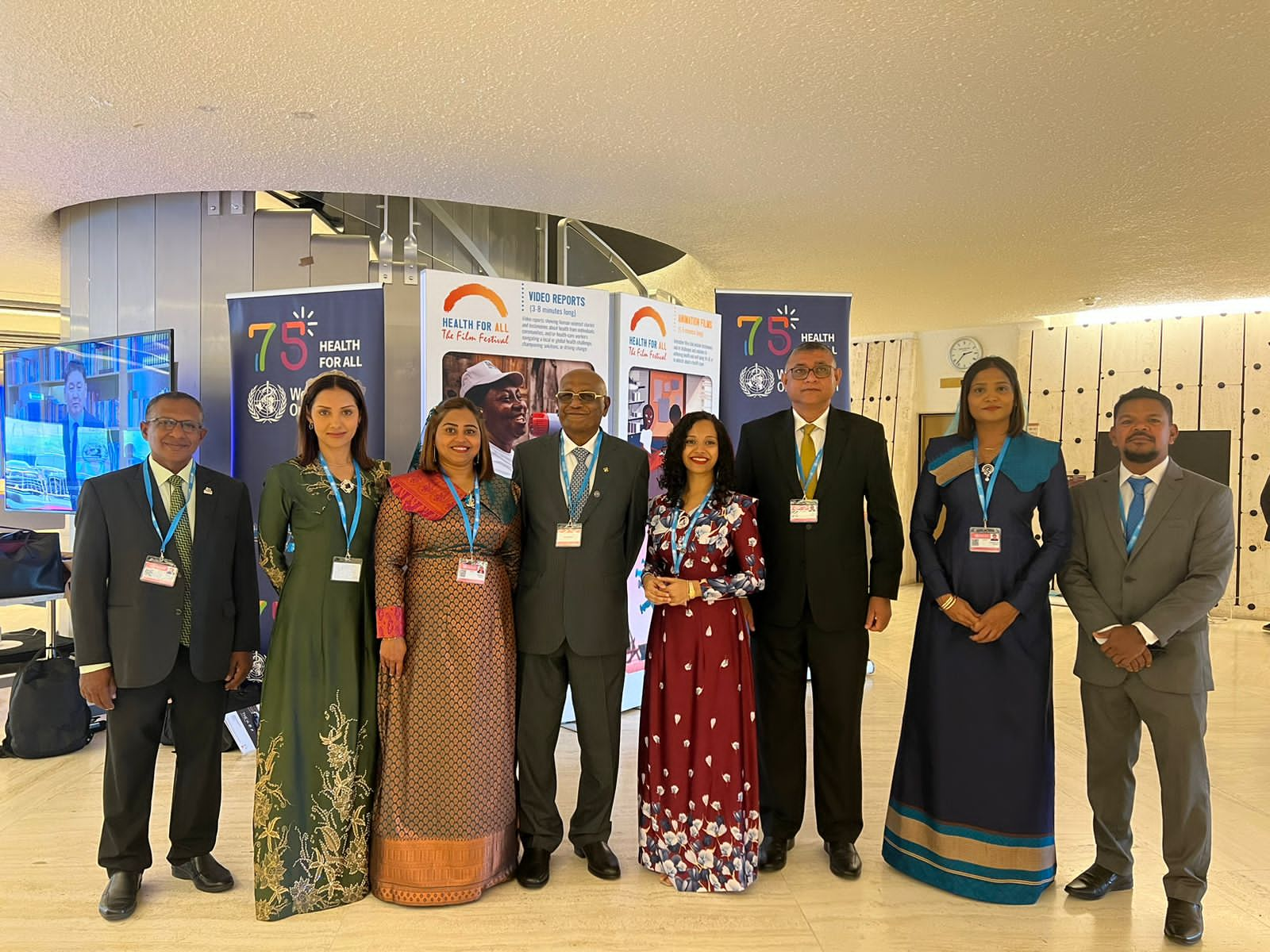 76th Session of the World Health Assembly organized by the World Health Organization has begun today in Geneva, Switzerland. 194 Member States of the WHO are taking part in this meeting from 21st to 30th May 2023. Many important decisions regarding global health would be taken during this meeting.
The Maldivian delegation to the World Health Assembly this year is lead by Minister of Health Order of the Dignified Rule of the Muleege Dynasty Ahmed Naseem, accompanied by the Permanent Representative to the United Nations Office at Geneva, Dr. Asim Ahmed and high-level staff of the Ministry of Health and Permanent Mission of Maldives to the United Nations Office at Geneva.
Minister Naseem is scheduled to deliver the official statement at the plenary of the World Health Assembly on behalf of Maldives on the topic "WHO at 75: Saving lives, Driving health for all".
The Maldives delegation is scheduled to meet with other Member States to discuss bilateral collaborations and will also be meeting with the Director General of World Health Organization, Regional Director of South-East Asia Region, Stop TB Partnership and UnitAID.
The key decisions on the areas of sustainable financing for WHO and pandemic preparedness treaty related discussions will be held on this year's sessions. Other areas of public health, healthcare service and healthcare workforce will also be discussed.
Similar to previous years, a Health Promotion event "Walk the Talk: Health For All Challenge" was carried out today morning before the Assembly in Geneva. The main purpose of this run/walk was to promote physical activity as part of a healthy sustainable future. The Maldivian delegation took part in this event.
Additionally, Maldives chaired the 38th Session of WHO Program, Budget and Administrative Committee, held on 17-19 May 2023, by Director of Ministry of Health, Aishath Rishmee. Further, Maldives will be representing as a member of the Executive Board meeting, which will be held from 31st May to 1st June 2023.